CNC Lathed Parts • CNC Milled Parts
Precision lathed and milled parts for mechanical and railway engineering
Max Auer is a component supplier to the tooling and mechanical engineering industries.
We produce
Precision lathed and milled parts of highest quality with respect to forming and positioning tolerances, planeness and parallelity
Precision lathed and milled parts for specialist mechanical engineering
Components for rail vehicles and the infrastructure of the railway industry
Sleeves and muffs
Gearbox housings and cograils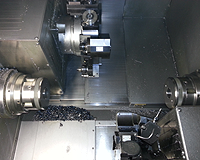 Please request a personal quote.
We look forward to your business.